Notes
"Vertigo is composed directly onto stereo tape and will be performed by controlling the sounds through a multi-loudspeaker diffusion system as they are played back from the tape.
The sonic material is derived mainly from Joanna Mowbray's sculptures. Sounds produced by scraping, bowing, rolling and striking the different pieces were recorded, then re-shaped and structured using the tools of the modern electro-acoustic music studio. In addition, synthesized material has been combined with these recorded sounds to provide alternative colours and forms.
The structure of the music is based around the shapes of the sounds produced by the sculpture, combined with ideas generated from the concept of vertigo, such as height, falling and instability".

Robert Worby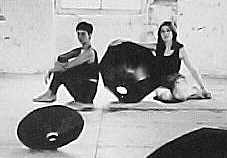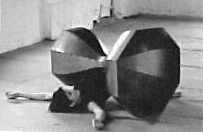 'Vertigo'
Joanna Mowbray+Sue MacLennan
Robert Worby, composer
Phil Saunders, lighting designer

1991